Referring Offices
We are grateful for your confidence in our practice and will strive to serve any referrals you may provide with the highest level of service. In order to do so, we ask that you fill out a referral form for each patient and either email it to our office at the email listed on the form or have the patient bring it to their appointment.
---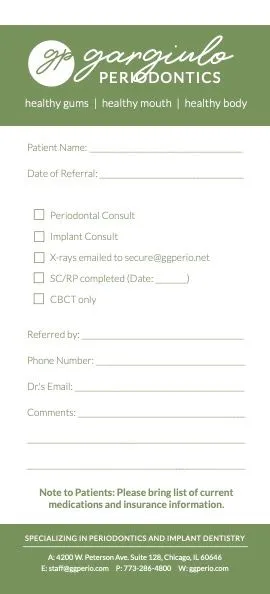 Information needed from referring dentist prior to the initial consultation
Copy of Referral Form filled out
Dental X-rays emailed to [email protected] (This should always include an FMX or Pano even if it's older than 12 months. If that is the case, please be sure to include any updated Bitewing X-rays along with the FMX/Pano)
Copy of CBCT (3D Image) if applicable, either a disk copy mailed to our office or you may contact us for an alternative option
Information needed from patients prior to the initial consultation

All of the above (Please be sure that all x-rays are sent to our office in a timely manner to ensure we can provide you with the highest level of care you deserve.)
Your dental insurance information (If you wish for us to submit to your insurance on the day of, we do need your dental information no later than 2 days prior to your appointment.)
New Patient forms must be filled out. Our staff reviews all of your health information 1-2 days prior to your appointment in order to maximize your appointment time and be more efficient. We ask that these are filled out no later than 2 days prior to your appointment. Please follow this link to our New Patient Questionnaire
Bring a list of all your current medications to your appointment AND if you need to pre-medicate prior to your dental appointments please be sure to do so. Call our office if you are unsure about whether this applies to you.