Covid-19 (Novel Coronavirus) Update
Due to recent concerns with the COVID-19 and updated information from the ISDS (Illinois State Dental Society) and the CDC (Centers for Disease Control and Prevention) our concern at Gargiulo Periodontics is for the utmost health of our patients. Gov. J.B Pritzker extended the "stay-at-home" order for all residents, directing people to remain in their homes except for essentials until the end of April to help stop the spread of COVID-19. With the "stay-at-home" order being extended, until further notice, the ISDS recommends that dentists cease all in-person dental treatment except for dental emergencies. Our office will remain closed until April 30th, 2020 or until further notice following ISDS recommendations. Dr. Gargiulo is staying up to date with recommendations from the ISDS and CDC and our office will notify you of any changes. We will be available for emergency treatment but elective care will be postponed until after May 1st, 2020.
---
---
INTRODUCING!!!

Colgate® Oral Care Recycling Program
Recycle all oral care products and packaging through this program.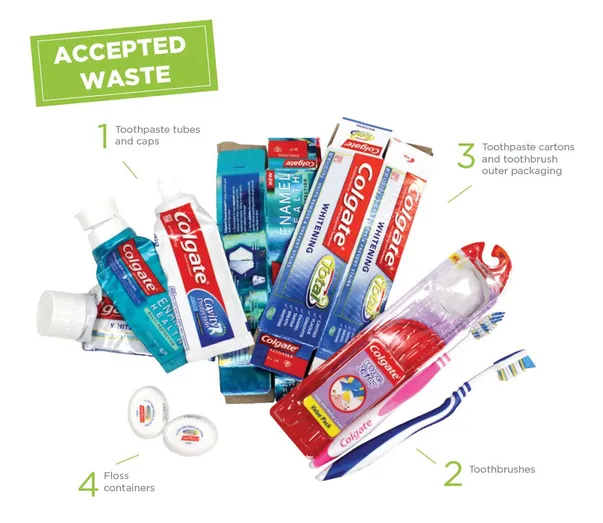 IMPORTANT!
Did you know that a new toothbrush is 95% more effective than a 3-month-old toothbrush?*
*A worn toothbrush is less effective in removing plaque between teeth: A Clinical Investigation into the Effect of Toothbrush Wear on Efficacy, The Journal of Clinical Dentistry.
What you can recycle
Program accepted waste: Toothpaste tubes and caps, toothbrushes, toothpaste cartons, toothbrush outer packaging, and floss containers.
Please note: Electric toothbrushes, battery toothbrushes, and/or their parts are not recyclable through the program.
Best practices for recycling
In order to recycle this waste stream properly, please make sure all excess product has been removed (i.e. leftover toothpaste or floss). Additionally, if you choose to rinse your product, please note that it must be completely dry prior to shipping. You cannot ship dripping packages.
What happens to the waste
Once collected, the tubes and brushes are separated by composition, shredded and melted into hard plastic that can be remolded to make new recycled products. Click here to learn more about the recycling process.